Say hello to the
Kura TV Unit
Following the success of our best-selling Kura storage range, NOMI brings out fresh perspectives to modern storage through our latest Kura TV Unit — a premium, customisable media unit that allows you to seamlessly integrate your electronics and elevate your entertainment experience.
With NOMI's technological advancement, the Kura TV Unit offers multiple customisation options such as wall-hung assembly, cable management integration, and the Slimline configuration.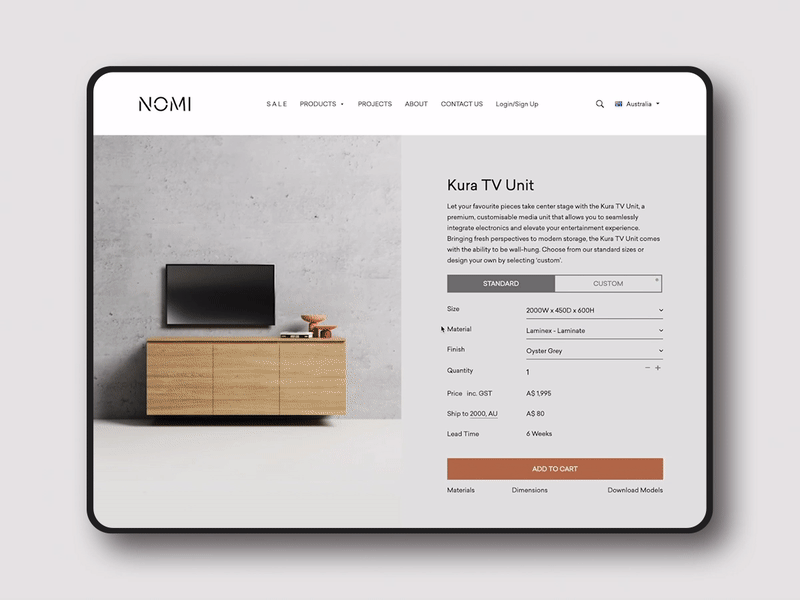 Handcrafted by local artisans and proudly Australian-made, the highly configurable design allows multi-use versatility with endless possible combinations. Consumers can freely customise their design through our online configurator and create a piece that best suits the functional and aesthetic needs of their space.
The Kura TV Unit is offered in a multitude of sizes and colour, ranging from American Oak, Laminate, and Textured Laminate, and comes with adjustable bay features, with options for open shelf, door, drawer, or half-drawer. Consumers can also select the base type from feet, plinth, premium castors, or wall-hung.
Additionally, they can integrate cable management into their design, with options to select its exact location and shape, enabling ease and utility.
The advanced options allow users to preview their design with fitting elements such as TV, and objects that can help them visualise how it will appear in their space. Once the design has been configured, they can conveniently download their drawings, view lead times and pricing instantaneously.
Let your favourite pieces take center stage with the Kura TV Unit.